Source of this post, all credit to them
Columbus startup that turns renters into owners selects Dayton for market expansion
Nov 11, 2020, 6:50am EST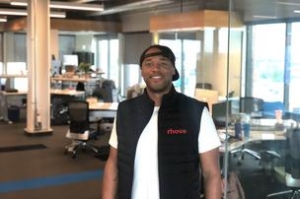 Calvin Cooper is co-founder and CEO of Rhove, a Columbus startup that turns renters into owners.
A Columbus startup owned by an entrepreneur with roots in Dayton has selected the Gem City for its first market expansion.
Rhove, a company that turns renters into owners, has partnered with Peak 10 Properties to launch its product in Dayton. Called "Rentership," the program gives renters the opportunity to own a stake in the apartment buildings they call home. Rentership will be available in Dayton starting early 2021.
Introduced in July, Rentership is a new category of housing that aims to make the value of ownership more accessible to everyone in the community. The three apartment communities Peak 10 owns in the Grafton Hill area near downtown Dayton — Park Layne, Rockwood and Riverstone — will participate in Rentership.
The partnership with Peak 10 represents Rhove's first expansion outside of its home market of Columbus.
"We're proud to offer quality, safe and affordable housing to hundreds of families in Dayton, and we're taking it to the next level by providing our renters a stake in the success of our communities," Peak 10 Properties Founder and CEO Nate Fisher said. "We see this as an opportunity to add extraordinary value to our portfolio of properties by attracting and retaining the best residents, while aligning interests in a way that's beneficial for everybody involved."
Rhove Co-Founder and CEO Calvin Cooper, who was born in Dayton, said property owners like Peak 10 will benefit from Rentership by cutting down on costly turnover rates.
"Many owners have 40% to 60% turnover rates, which is very costly," Cooper told DBJ. "Rentership is a way to impact that, and a way to attract residents instead of paying companies like Google or Apartments.com. With Rentership, you're paying your residents more directly."
Every resident at Park Layne, Rockwood and Riverstone will be granted an economic stake in their apartment community simply for living there. Residents can grow their stake anytime using the Rhove app to purchase additional Rentership units (RNT). The value of RNT is a function of the sale value of the property, and individual units can be purchased for as little as $1.
The Rhove app is available for download in the Google Play or Apple App store, as well as Rhove.com.
Through Rhove, renters are empowered to participate in the value of their community if it appreciates. Additionally, stakeholders earn a fixed 5% return –– known as an RNT Return –– in the form of annualized cash distributions in proportion to their RNT holdings.
Distributions are paid for by the property owner out of rent that has been collected every month. Residents who buy RNT can hold it — even if they move — until the property is sold. Or they can sell their stake at any time without penalty using Rhove's app.
Cooper said Rhove is especially impactful for Millennials.
"Millennials have zero net real estate wealth, which is a shocking statistic and a barrier to progress for our generation," he said. "The binary choice between renting and owning has left most of us without any choice at all. Turning every renter into an owner is solving more than a financial challenge — it's about citizenship and social responsibility. I am excited for Rentership to take flight in the birthplace of aviation and to bring a new housing category to this great city. This is particularly meaningful since I was also born in Dayton and have family who still live in the Gem City."
Cooper's entrepreneurial roots date back to his great-grandparents, who made their living in Dayton.
His great-grandmother on his dad's side owned real estate. Cooper remembers his grandmother talking about Robin Weaver, and how she used to sell homes to some of her tenants on "land contract," along with using other rent-to-own arrangements. Cooper's great-grandfather, Mark Mayo Sr., was an entrepreneur on his mom's side. Cooper's family opened the first black-owned skating rink in Ohio on Dayton's west side in the 1940s, and built another one, Hoover Skate Arena, in the 1960s.
Another one of his family members, Harry Mayo Sr., who passed away recently, owned Mayo Industries in the 1980s. It became one of the first minority suppliers in the country to surpass $1 million in sales. By the 1990s, Mayo Industries and affiliates housed over one million square feet of manufacturing and warehousing space with over 150 employees.
"That is why I'm inspired about coming to Dayton," Cooper said of his local family ties. "It's really exciting to be able to have Rentership take flight in the birthplace of aviation, and to expand to the Gem City."
Dayton is the second market where Rentership is offered. The concept was first introduced July 4 in Columbus. Cooper says adoption has been rapid, and Rhove is preparing to selectively offer Rentership in cities throughout North America.
"I've been inspired by how many owners have reached out to us," he said. "We've heard from people in almost every major market, so I wouldn't be surprised if Rhove was in every corner of the U.S. in the next 12 to 24 months."
John Bush
Senior Reporter
Dayton Business Journal