Welcome to Luxer One Package System:
Luxer One is a convenient and new amenity for you! We have recently installed a new electronic package locker system through Luxer One.    This new system will allow parcel carriers to deliver your packages straight to a secure locker that you can access during normal business hours. We hope to have this service open 24/7 * in the next 30 days….we are waiting for a new entry door to the package room, so please be patient as we work through this challenge.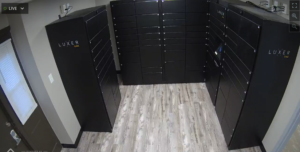 Please watch this short video to see how the system works: https://youtu.be/IyLXolPttxY
In order to use the system, you will need to register at LuxerOne.com/register.
There will be a nominal monthly fee to use the service, which will be billed directly to your tenant account after the grace period is over.
We appreciate your patience as we all learn to use the new system and work with the carriers to teach them it as well.   We apologize in advance of any issues, but please be patient as this is a new system for everyone and it will not be perfect at first.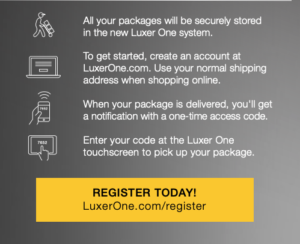 As we roll out this new program and learn to use the new package system we will be offering this service at no charge until Jan 31 as we want to get everyone signed up.      After Jan 31, 2022 the leasing office will no longer be able to accept packages on your behalf.    Stay tuned for more information!
Happy Holidays!!
Regards,
Peak 10 Properties
*We are waiting for a new entry door to the package room, so please be patient as we work through this challenge